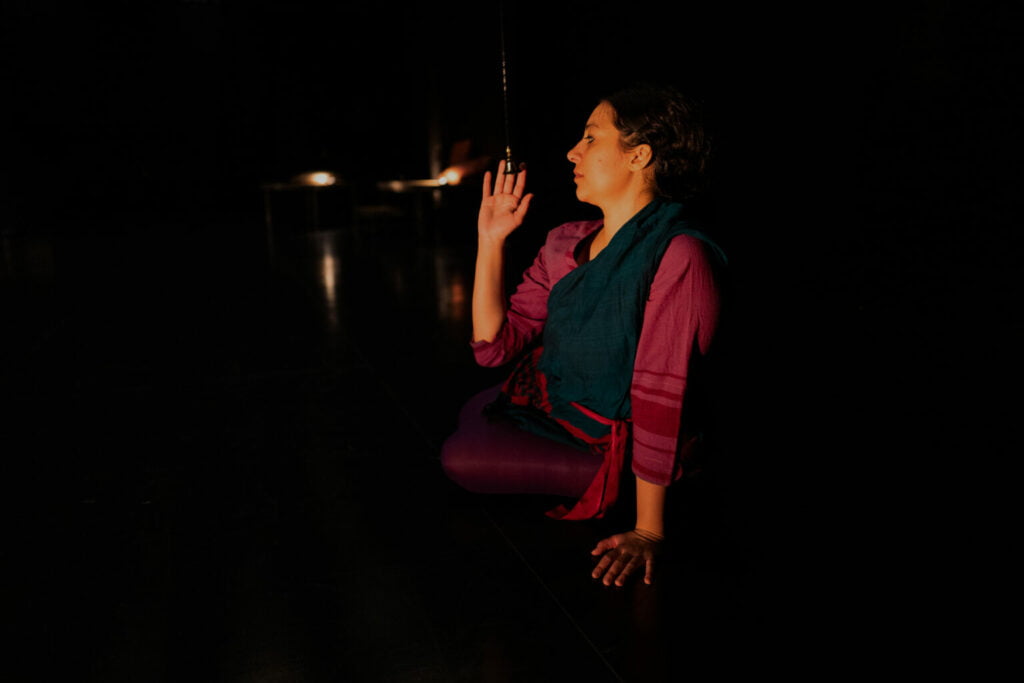 On listening, moving, resting and being
Masterclass by Sara Mikolai
In collaboration with FUORIMARGINE- dance and performing arts production center of Sardinia
In her artistic practice, Sara Mikolai explores the modalities of listening: she investigates interactions with our bodies and the ways in which we can, through sound attention, transform our listening and our bodies in conscious and profound ways. What if we did not judge what we listen to but let it happen and affect our bodies? How does it move us, emotionally and physically? It could become a form of active meditation that allows movement and rest. Through this practice, the workshop accompanies to confront various levels that influence and shape the artist's approach to dance. Listening more actively and deeply helps to perceive dance not only through the eyes but also through the sense of hearing. In this way one learns to remain present, to unlearn and relearn the meanings attached to the sound source.
NOTE: There are no artistic or professional dance requirements to participate. Please bring comfortable clothes to keep warm and a shawl to stay on the floor if needed.
---
Sara Mikolai is a choreographer and interdisciplinary artist of Tamil origin from Sri Lanka, based in Berlin. In her work she focuses on a critical and poetic engagement with dance epistemologies. Through an interdisciplinary approach she works primarily with live performance, sound, video, installation, printmaking and writing. Since 2015 she has been exploring the relationship between movement, body and sound and deepening her insights into a practice where listening and movement complement and influence each other. She has been studying and training in Bharatanatyam since 1994 under the guidance of Diana Mikolai at the Abhinaya Dharpana Indian Dance School in Berlin. She graduated in Dance, Context and Choreography from the Inter-University Center for Dance – HZT Berlin (University of the Arts Berlin) and in the MFA program in Performing Arts at the University of the Arts of Iceland, Reykjavik. He also holds a diploma in Bharatanatyam from the Oriental Fine Arts Academy in London. He is currently doing research in the Postgraduate MPhil in Fine Arts program at the Postgraduate Institute of Humanities and Social Sciences (PGIHS) / Peradeniya University, in Kandy, Sri Lanka.