Myanmar, Netherlands, Norway, 2022, 70′
Regia The Myanmar Film Collective
Awards
Best Documentary Award – Berlinale
Amnesty International Film Award – Berlinale
3rd Place Panorama Audience Award Winner – Berlinale
Best Director Award (International Competition) – One World IFF
Chantel Akerman Award, Best Experimental Documentary
Myanmar is one of those countries that repeatedly appear in the international headlines, only to be ousted again for months on end. Ten young Burmese filmmakers, who must remain anonymous because to reveal their names would risk their lives, have dared to create this shocking cinematic appeal. This hybrid documentary shows the aftermath of the military coup in Myanmar on February 1, 2021, the ensuing nationwide protests and civil disobedience. Mobile phone footage shot by citizen journalists documents the brutal and arbitrary response of the military towards demonstrators. One young woman, for example, is shot dead for wearing a red T-shirt – red being considered the colour of the protests. In between demonstrations, we also see the opposition members at home. Their faces are never recognisable, but their fear, their determination, their grief, their anger and the huge void that their friend's death has left behind in their everyday lives, become all the more palpable.
The members of this anonymous Myanmar film collective want neither to give up nor to be forced into the role of victims. This is exactly why this film was made. It is a document of resistance using the tools of cinema.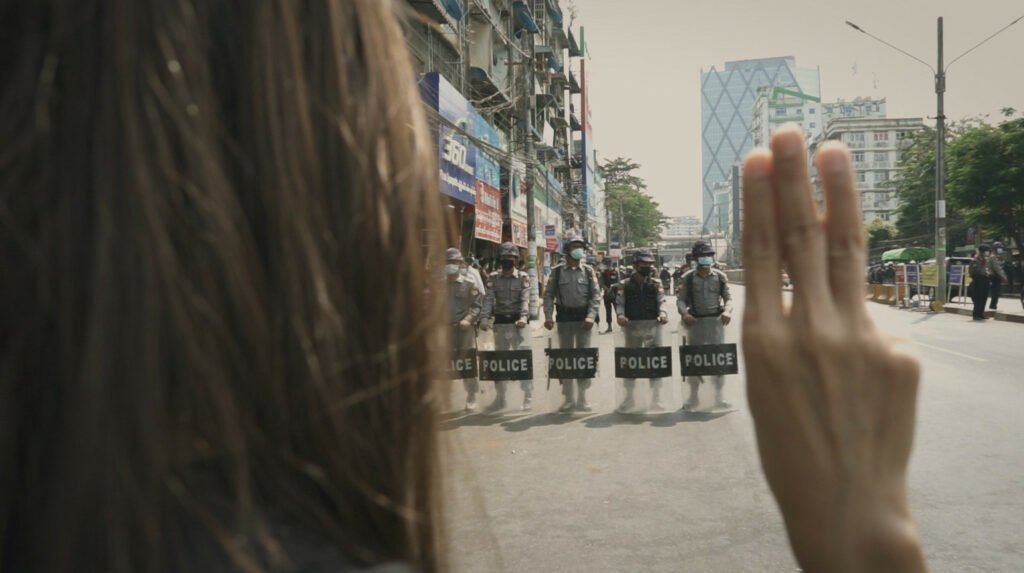 The Myanmar Film Collective
This group of young Myanmar filmmakers continue their work under the current difficult circumstances in their country, seeing it as an act of resistance against the military regime. For safety reasons, the group members have chosen to remain anonymous. In their manifesto they write: "This film is a reaction to the 'spring-like dream' of freedom in Myanmar that lasted for merely ten years. It is about the enthusiasm and hope of a young generation brutally crushed." The group aims to give a voice to those who currently have no voice, in a country where freedom has once again been stolen from its people.