A Personal Approach Towards South East Asian Independent Cinema
A masterclass with Gertjan Zuilhof (programmer IFF Rotterdam)
In collaboration with Fondazione Sardegna Film Commission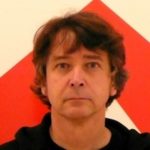 Gertjan Zuilhof
Dates from 1955, the year rock'n'roll really took off. He started his
career drawing cartoons for the high school magazine and maybe he will
end his career somehow like that. In between he worked as an art
historian, film critic and film festival programmer. One of those
programs – a workshop with young African filmmakers – brought him for
the first time to Songzhuang in 2010. This first collaboration with
the Li Xianting Film Fund and Film School was followed by several
other formal and informal projects like the Home Town Home exhibition
in fanHall in 2012. Zuilhof goes on travelling for  the Rotterdam Film
Festival or on his own in South East Asia and Africa. His most recent
project was curating an exhibition with artists from Burma.
In his lecture Gertjan Zuilhof will retrace his own quite personal
discovery of South East Asian cinema and will elaborate on some of the
South East Asian filmmakers in more detail.