Subject: Memory Project & Documentary creation
Persons who will conduct the class: Wu and two young filmmakers Zhang, Zou.
Model of class: workshop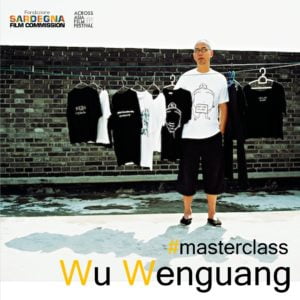 07 DICEMBRE 2014
LAZZARETTO | CAGLIARI
H 10.00 – 15.00
MASTERCLASS CON IL REGISTA WU WENGUANG DI TEORIA DELLA TECNICA DI REGIA DEL CINEMA DOCUMENTARIO, REALIZZATA DALLA FONDAZIONE SARDEGNA FILM COMMISSION IN COLLABORAZIONE CON ACROSS ASIA FILM FESTIVAL.
WENGUANG, RICONOSCIUTO A LIVELLO INTERNAZIONALE COME IL PIONIERE DEL DOCUMENTARIO INDIPENDENTE IN CINA, È L'AUTORE DI FOLK MEMORY PROJECT, UN PROGETTO PLURIENNALE DI DOCUMENTAZIONE DEL FENOMENO DELLA GRANDE CARESTIA CHE HA COLPITO LA CINA DAL 1959 AL 61.
FOLK MEMORY PROJECT È ANCHE LA RICOSTRUZIONE E LA MAPPATURA DELL'ACCELERAZIONE DEI FENOMENI DI INURBAMENTO E SPOPOLAMENTO DELLE CAMPAGNE E SOPRATTUTTO UN LAVORO DI RICUCITURA DEI LEGAMI SOCIALI E FAMILIARI ATTRAVERSO LA PRATICA STESSA DEL DOCUMENTARIO, CHE RECUPERA LA SUA MISSIONE DI STRUMENTO DI TRASFORMAZIONE DEL REALE.
Desidero prenotare per la Masterclass gratuita sul documentario tenuta da Wu Wenguang Domenica 7 Dicembre al Lazzaretto (via dei navigatori  – Cagliari) dalle 10.00 alle 15.00