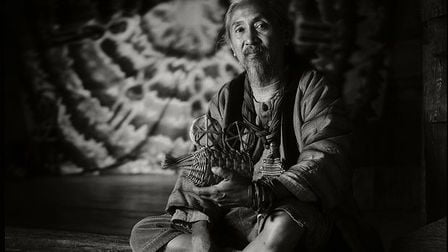 Not so much a documentary, nor a compendium of interviews, but an almost rarefied glimpse into a wholesale revolt from a rigid paradigm long upheld by the west as the only way to make a film. If you want to see how technology has democratized cinema, here is the tip of a massive iceberg.
Dodo Dayao, screenplayer
Dodo Dayao, Screenplayer
Director Khavn De La Cruz Screenplay Khavn De La Cruz with Dodo Dayao & Mabie Alagbate Cast Adolfo Alix, Jr., Ato Bautista, Ditsi Carolino, Mes De Guzman, Lav Diaz, Rico Maria Ilarde, Jeffrey Jeturian, Khavn, Raya Martin, Brillante Mendoza, Ellen Ramos, Roxlee, Sherad Anthony Sanchez, Auraeus Solito, Kidlat Tahimik, John Torres, Paolo Villaluna Cinematography Khavn De La Cruz Sound design Lawrence Ang Production Noel Ferrer, Instamatic Writings, MovFest Lenght 75' Language Tagalog with English subtitles Country Philippines Year 2010 Genre Documentary
KHAVN asks to the most different internationally acclaimed filmmakers from Philippine New Wave some questions about filmmaking and beyond. Brillante Mendoza, Lav Diaz, Adolfo Alix jr, Raya Martin and many others tell us their path, from their humble beginnings since the first unforgettable experiences, highlighting influences, philosophy, process, reflecting on the true meaning of independence, on what power of film is, on what the future holds for cinema, locally and worldwide. A documentary and informative film, at the same time insightful, inspirational and illuminating, revealing how diverse the landscape of Philippine Cinema has become, and how much of it is a shared love and a shared art in which you are complicit in.
Khavn De La Cruz is a multi-awarded and internationally renowned filmmaker, composer, and writer.  Because of his polyhedric, multifaceted work is defined in many different ways as "the Lars von Trier of the Philippines" (Julien Fonfrede, Montreal Festival Of New Cinema), "the new Takashi Miike. The Philippine counterpart of Peter Baiestorf" (Mondo Paura), "the world's most prolific major filmmaker" (Variety), "a rock 'n' roll filmmaker with the sensibilities of Buñuel" (Ricky S. Torre, GMA News), "a punk rebel" (Die Presse). He has thirty-three features and more than a hundred short films under his belt, including Mondomanila (Rotterdam 2012), The Muzzled Horse Of An Engineer In Search Of Mechanical Saddles (Berlinale 2008), Manila In The Fangs Of Darkness (Viennale 2008), and Squatterpunk (Rotterdam 2007).  Once the proprietor of the late 90s go-to place for local artists Oracafe, Khavn has been called the father of Philippine digital filmmaking. He is the president of Kamias Road, an independent film, music, and publishing company.