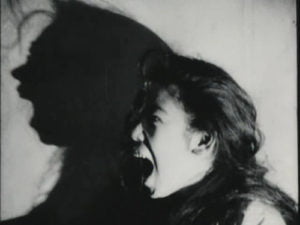 CHIESA DI SANTA CHIARA
21:00
FILIPINIANA
di Khavn De La Cruz
Filippine, 2015, 14'
Live music L;ç°°ç + 03SIDIAN
21:30
JUAN TAMAD GOES TO THE MOON
di Khavn De La Cruz
Filippine, 2018, 5'
Live music Khavn De La Cruz
21:40
A PAGE OF MADNESS
di Teinosuke Kinugasa
Giappone, 2017, 70'
Live music Khavn De La Cruz
Khavn De La Cruz is a multi-awarded and internationally renowned filmmaker, composer, and writer. He has thirty-three features and more than a hundred short films under his belt, including Mondomanila (Rotterdam 2012), The Muzzled Horse Of An Engineer In Search Of Mechanical Saddles (Berlinale 2008), Manila In The Fangs Of Darkness (Viennale 2008), and Squatterpunk (Rotterdam 2007). Once the proprietor of the late 90s go-to place for local artists Oracafe, Khavn has been called the father of Philippine digital filmmaking. He has served as jury member at the Berlinale, Clermont-Ferrand , CPH:DOX, Jeonju, Jihlava, & Dok Leipzig film festivals and is the festival director of .MOV International Film, Music, & Literature Festival, the first digital film festival in the Philippines. Khavn has also judged in the Palanca National Literary Awards (the Philippine equivalent of the Pulitzer) and has won for himself in poetry and fiction. He has been selected thrice in the National Writers Workshop and was invited to a writing residency in Ventspils International Writers House, Latvia. Khavn has received the Dean's Award for Literature from his alma mater, the Ateneo De Manila University, where he also has lectured about the creative process. Five of his books have been published, which includes an anthology of Philippine poetry, two poetry collections, a non-fiction compendium on new Philippine cinema, and Ultraviolins, hailed as the first postmodern book of stories in Filipino. Khavn is also an award-winning songwriter and has performed his original compositions, either as a solo pianist or with one of his three bands Fando & Lis, The Brockas, and Vigo in places such as Thessaloniki, Austin, and Brisbane. He is the president of Kamias Road, an independent film, music, and publishing company.
Cresciuto nel Sulcis Iglesiente sardo, si approccia alla musica sin dalla tenera età, approfondendo da autodidatta lo studio di batteria e percussioni. Nel 2017, consegue il diploma in musica elettronica con il massimo dei voti presso il Conservatorio G.P. Da Palestrina di Cagliari, mentre nel 2018 consegue il Master in Art&Culture presso la Novia University of Applied Science di Vaasa (Finlandia). Nell'aprile 2018 fonda l'etichetta discografica SUPRANU Records® e pubblica il suo disco d'esordio "In the Planet of Shiva".
03SIDIAN rappresenta l'animo musicale di Michele Uccheddu e il legame con la sua terra d'origine, la Sardegna. Musica elettronica e percussioni sono gli strumenti che utilizza per la sua ricerca musicale, concentrandosi in particolare su sperimentazione, musica contemporanea e d'avanguardia.